Member Notice - NMLTA Mourns the Passing of Past President
Date posted
January 27, 2023

NMLTA Mourns the Passing of Bill Harris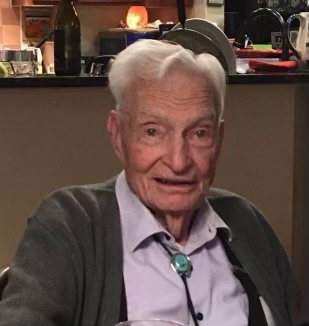 It is with great sadness that we announce the passing of Bill Harris who passed away on January 22, 2023.  Bill is the father of Bob Harris with Title Services Inc. in Raton.  Bill Harris is a two-time Past President of the New Mexico Land Title Association serving in 1972-1973 and 1974-1975.  
Bill grew up in Colorado. He graduated from high school in Grand Junction, Colorado, where he met his future wife, Evelyn (Tebedo) Harris, at a high school football game in 1942.  After graduation, Bill entered the US Navy serving from 1944 to 1946.  After serving in the US Navy, in September 1950, Bill returned to Colorado and married his high school sweetheart, Evelyn. Bill and Evelyn lived in various places in Colorado including Denver, Grand Junction, Glenwood Springs and Montrose.  Bill earned a degree in Civil Engineering and, while living in Montrose, he managed the Umcompahgre Valley Waters Users Association and was in charge of their water tunnel and transportation system.  In 1964, Bill and Evelyn moved to Raton, New Mexico where they purchased Twitty Abstract from Ruth McMillan (wife of Chet McMillian, NMLTA Past President 1962-1963) because simply put, Bill wanted to be his own boss and own his own business. Bill continued to work in the title industry for many years, finally retiring in 1990.  Having also earned a surveying license in both Colorado and New Mexico, after retiring, Bill continued to use his knowledge of title and especially legal descriptions by working as a land surveyor throughout Colfax County. 
Bill and Evelyn eventually moved back to Colorado where they lived together until Evelyn's passing in April, 2022.  Bill and Evelyn are survived by their four children, Bob Harris and his wife, Kathy; Denise Ries and her husband, Mark; Mary Jean Harris and her partner, Thomas; and Nancy Holub and her husband Pete, as well as numerous grandchildren, great-grandchildren, nieces, nephews and many dear friends.
 A memorial service will be held 1:00 pm on Monday, January 30, 2023 at Ellis Family Services,13436 West Arbor Place, Littleton, Colorado, 80127.
 In lieu of flowers, the family asks that you consider donations to the NMLTA Chili Currier Scholarship Fund.